Summer camp lights up children

–The day-care centre provides carefree times
Their parents haven't seen them for years. They work abroad to send money home for the family. Children live with their grandparents, in a confined space, with the bare necessities to get by – often with less. There is a shortage of everything. 24 percent of children in the Republic of Moldova are considered poor, eleven percent are affected by extreme poverty. Getting by on little, having too little. For many children in the rural regions of the country, this is everyday life. An everyday life from which our day-care centres offer respite. There is hot food, homework supervision, games and sports activities and a summer holiday program.
A program that's beneficial
Our Pearl day-care centre in Vulcanesti is one of three day-care centres that wortundtat supports. Around 75 boys and girls between the ages of six and 15 go there every day after school – and spend even more time at the centres during the summer holidays. In addition to the school children taking part in the Pearl program, all children from Vulcanesti get a chance to go to the summer camp. For two weeks, the focus is on painting, theatre or cooking together. There are morning sports and Bible studies, a water slide and volleyball tournaments. "The children have fun and feel accepted," says Liza Smolina, director of the Pearl day-care centre. "Their beaming, happy faces show how good the program is for them – and how important it is".
More recent reports from the Republic of Moldova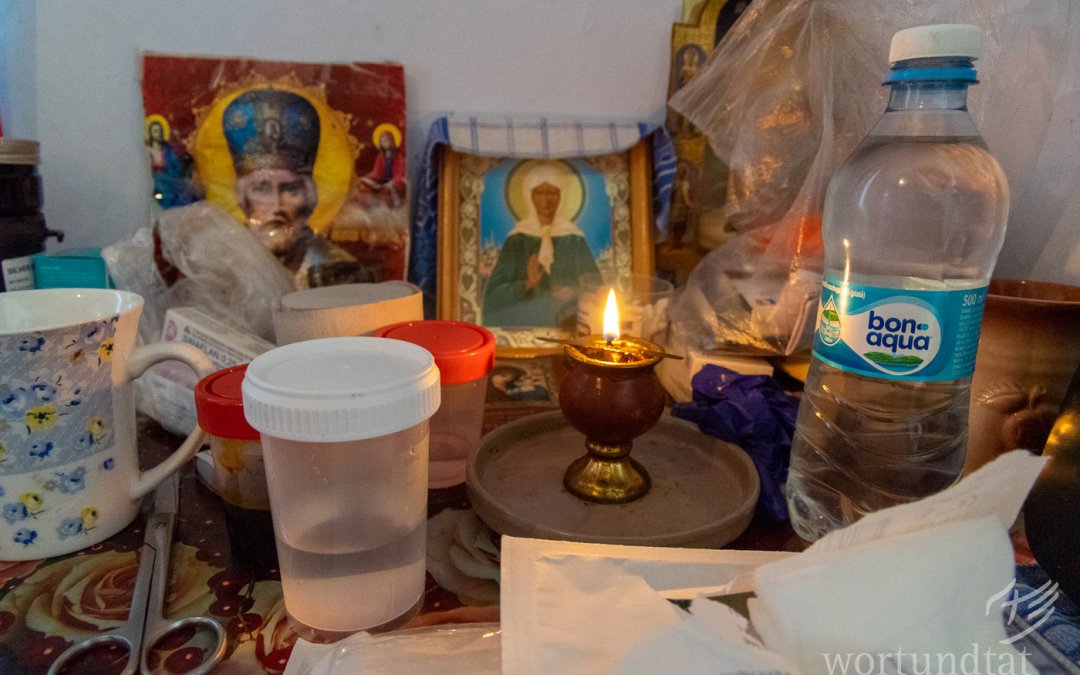 An outpatient palliative and nursing service run by wortundtat helps the elderly and sick in the Republic of Moldova who would otherwise remain alone.
read more
"We don't know what tomatoes or cucumbers taste like anymore"
Daniel and his grandmother are one heart and soul. But living in a small house with a vegetable patch is still challenging for them and their family members. They desperately rely on aid.
No money for heating

– Daniel and his grandmother need the support of the day-care centre.
Daniel laughs happily, while he practises a new dance routine with other summer camp kids. The 15-year-old helps the supervisors run the summer camp, while he also takes part in the Pearl program. During the school year, he goes there every day, gets a warm meal, gets help with homework and attention and care. To the immense joy of his grandmother, with whom he lives. She is raising three grandchildren. The parents have been "somewhere in Poland" for a long time to earn money. As yet, they haven't sent any home. The family lives on 2,600 Leu (EUR 130) a month, the grandfather's pension, which is not enough to make ends meet. Recently, they had to spend all the money on potatoes. Their own vegetable patch, which many people in in the Republic of Moldova keep, does not produce much as the soil is too infertile. "We've forgotten what tomatoes or cucumbers taste like", says the grandmother, who is only able to heat the small house in winter thanks to the Pearl day-care centre making wood available. "Otherwise, we'd freeze".
Four of them living in the smallest of spaces

– Vanya and Masha love the program at the day-care centre
Vanya (14) and Masha (almost 12) live with their mother, grandmother and big sister in poor conditions. They live and sleep in a small apartment; at night, the armchairs in the living room become a bed for Vanya, Masha and their grandmother. The wiring in the apartment needs repair. When the gas bill is too high, they turn off the lights to save money. But even money for food is scarce. The grandmother's pension and the income earned by the mother – she works shifts at a factory making cable harnesses – needs to be enough for everyone. So, the family does not have much money and the mother has little time for her children. This means the 70-year-old grandmother has the task of raising her grandchildren. All the more, she and the children enjoyed the time at summer camp. Meeting up with other girls and boys, spending time together and playing. Vanya and Masha enjoyed their time at Pearl day-care centre – and it did them good. "The director Liza is like a second mother to her", says her grandmother and we can see that even these short breaks from the enormous responsibilities she shoulders also helps her. "It's all on me. When I'm gone, I don't know what will happen to the kids".
A day at the holiday camp

– lots of exercise, tasty food and stories about Jesus
How you can support our aid to children in the Republic of Moldova
At three day-care centres in the Republic of Moldova, wortundtat cares for around 120 children. Many of them have similar life stories to Daniel, Vanya and Masha. To take care of a child at the day-care centre,
it takes around 15 euros a week
This sum enables us to cover operating, staff and administrative expenses, as well as the cost for food, clothing or teaching and play materials for a child.
Read why and where we help in the field of social welfare
Help us with your donation – A healthy lunch for children
At wortundtat partners, diaconal offers are linked with the opportunity to get to know the Christian faith.