Help us with your donation

– Training medical specialists in Tanzania now
Your donation of €16 a month or €576 over three years makes it possible to train doctors in the south of Tanzania. Donate now and you can support young people on the pathway to a career as a medical specialist and help sick people looking for professional treatment.
We have built up a college where medical specialists are trained, and it opened to students in autumn 2020. The second cohort of students has now also started; 49 women and 101 men now train here. They will graduate in September 2023 and 2024 respectively.
What does a medical specialist do?
The course of study to become a "Clinical Officer", as it is called, takes three years. The graduates from the new college can
diagnose and treat illnesses and injuries
order and evaluate examinations
deal with routine surgical interventions
provide support with prenatal care and family planning
refer sick people to specialist physicians
manage health projects
order medicines and medical supplies for pharmacies
Specialists of this type are urgently needed in Tanzania's rural regions in particular, which are suffering from an acute shortage of doctors. With their qualifications, the Clinical Officers can provide initial treatment. In the long term, the workers will strengthen the health system throughout the country.
4 million out of 57 million people in Tanzania have no reliable source of clean water. 30 million have no access to appropriate sanitary facilities. This increases the risk of diarrhoea, which can quickly lead to acute malnourishment in children, for example.
Tanzania is one of the ten countries worldwide with the most cases of malaria and resultant deaths.
There are not enough medical services for obstetrics and neonatal care: Only one out of five outpatient units and two out of five health centres offer comprehensive assistance with childbirth.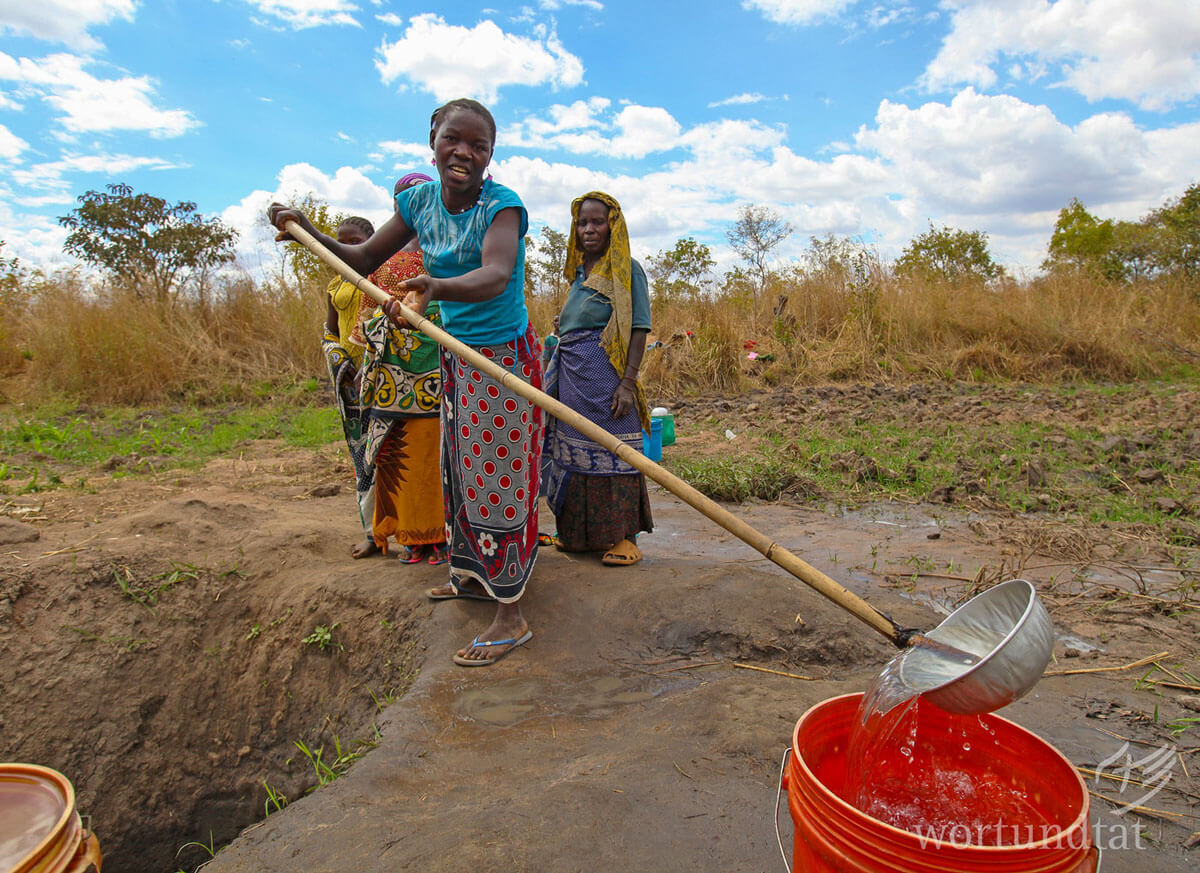 In rural parts of Tanzania, women often still fetch water from open waters, which often causes disease.
How your donation is multiplied
When you donate €16, the Tanzanian state provides a subsidy and a student pays a reduced study fee. A total of €55 per month then finances college materials, boarding costs, teachers' salaries, clothing and food for the students and other costs relating to the training.
During their professional life, these specialists will treat many thousands of people. And even during their studies, the students work in the region's health care units, helping sick people and gaining a wide range of practical experience.