You can help children in the Republic of Moldova

–
Donation drive for our child day care centres
Whether a child in the Republic of Moldova is poor or has enough to live on depends very much on where he or she grows up – in the countryside or in the city. In 2019, out of 100 children living in the rural areas in Moldova, 36 were living in poverty. In cities, the figure was seven out of 100. How the numbers are now trending following the outbreak of Covid-19 and the Ukraine war is not known. What is clear is that living conditions for many people in the countryside have deteriorated. Help for children in the Republic of Moldova, which wortundtat provides at its various day care centres, is therefore becoming increasingly urgent. It reaches families in rural areas. And financial poverty is just one of the issues which workers respond to through their caring commitment. You can help us support children in the Republic of Moldova.
Over our visits to the day care centre at Ceadîr-Lunga, we encounter many children who show signs of hardship only on closer inspection. The children are dressed in Central European attire. At the child day care centre, they have numerous opportunities to play. They'll also be fed and will always get a square meal there. Do these children in Moldova really need help? "Nearly all the clothes the children are wearing are donated by us. They are shipped from
Dortmunder Stern im Norden
and are handed out here as needed," says Maxim Friesen, head of the facility, which has around 40 children regularly attending. The real hardship can only be seen when you go to their homes or find out about the family background and see living conditions first hand.
We can offer a wide range of help – only thanks to German aid for the children
The child day care centre offers the children a wide range of activities: there is a room where they can discover handicrafts. Cabinets are filled with paper and coloured boards, glue, colouring pencils and crayons and many other handicraft materials. In an adjourrning room, there is space for indoor mobility games in bad weather, for storytelling lessons or simply "hanging out" together. The dining hall is also very popular because the children get hot meals and, occasionally, they can cook and bake their own dishes.
Families with dad, mum and kids living together are the exception
Again, most children get to do handicrafts, cook and listen to stories, all experiences they won't find at home: There's no money for handicraft materials. Cooking means preparing whatever can be grown in the home's vegetable patch or whatever food money coming into the home can afford to buy – usually not much in both cases. And reading stories or parents and kids just simply "hanging out" together are almost unheard of. "Out of the 40 children who attend our day care centre, only one child will be growing up with both a father and a mother and will enjoy a reasonable household income," Maxim Friesen reports. The other 39 live with one parent or are cared for by a grandmother, whose pension in most cases is not enough to cover a growing child's needs. For example, eleven-year-old Tanja leads a typical life, who we'll meet at the day care centre and later visit at home.
24% of children live on the breadline.
11% of children are affected by extreme poverty. This means they must survive on less than $1.90 a day for housing, fuel, heating, schooling, clothes, food and games.
Parents working abroad can improve the financial situation: the child poverty rate in households with at least one parent abroad stood at 20% in 2019. Children whose parents live in the Republic of Moldova are considered poor in 25% of cases.
In 19% of all Moldovan households with children, at least one member lives abroad – mostly for work.
In rural areas, this figure rises to 25% – i.e., in one in four households, with at least one parent living abroad.
Overall, for 17% of all children, both parents have moved abroad.
What we find affects children
Children whose parents live and work abroad and send home money miss their parents.
Children often say that they would rather have less money but see their parents more often.
Parents regularly go abroad, but don't send money home.
Again and again, grandparents or caregivers report that they have not heard from or seen parents for months or even.
How wortundtat helps eleven-year-old Tanja
I'm Tanja and I'm 11 years old. At first glance, you won't see I don't have everything I need. I am well dressed. Some people say I'm very outgoing and I seem to be happy-go-lucky and cheerful.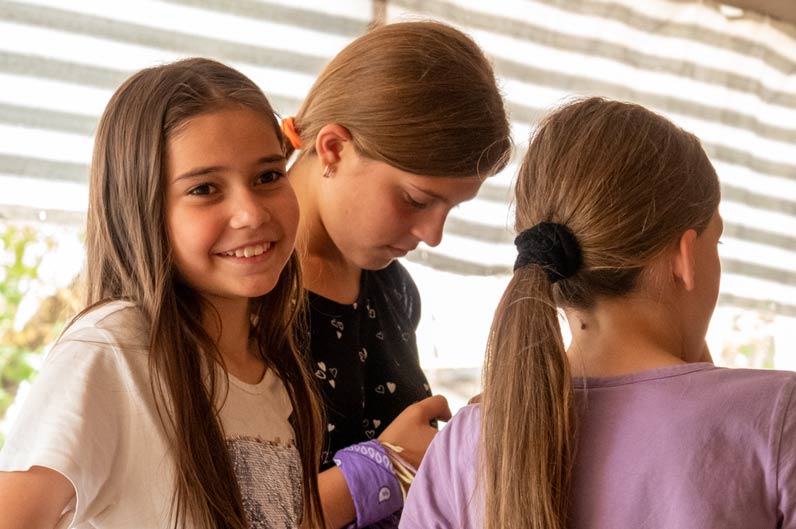 At the daycare centre, I like to play and laugh with the other kids. A total of about 40 boys and girls attend. So, I always have someone my age I can do something with.
When there is something to do, I'll have a go at it, too. We've just set up a bouncy castle, which the daycare centre manager got quite cheaply and on which we all now have a lot of fun playing when it's inflated.
I was just eighteen months old when my mother "dropped me off" at nanny's place. I've been living there ever since – without mum and dad. Nan is 71 years old. As a small child, I got sick a lot. Nan took care of me many times all night long. When school was closed due to Covid, Nan had to buy a computer for online lessons. She got a loan of 350 euros. The money for the repayments means that we don't have it for other things. But I don't ask for much and always ask nan if she really has the money when she wants to buy me something. We're one in heart and soul.
In winter, we sleep together in the small living room. The other rooms are not heated. The cost of gas has gone up incredibly. But we've not given up on life because wortundtat helps us: with clothes, food or my place at the daycare centre. And when our outdoor toilet in the backyard that was already falling apart looked like it would collapse completely, the wortundtat building team, with the help of private donors from Germany, installed a small bathroom inside our home.
"Tanja has a very loving grandma who takes good care of her granddaughter. A lot of grandparents can't do that. Or they are overwhelmed because they have several grandchildren to look after", Maxim Friesen says. He examines the families carefully whose children he gives places to at the day care centre. "If a child has been given a place with us, we expect to see the child regularly. Otherwise, they are taking up a place that could be given to another child". If a child fails to turn up, then we'll ask where the child is. And kids that are a no show for a certain period will be asked to free their place for another child.
Shusha, Oliver, Valeria and their families

– six people living in 30 square meters
Shusha (12 years old, left), Oliver (11 years old) and Valeria (11 years old) live together with the two girls' mother, a grandmother and another relative in a flat of just 30 square meters. Accommodation consists of three rooms and a kitchen. A wood-burning stove heats the flat. In the winter of 2021/22, firewood was only enough to heat the home once a day. So, the temperature in the flat would drop 10 degrees until the following evening when the stove was fired up again.
The three regularly attend our day care centre in Ceadîr-Lunga.
The mother works at a wortundtat homeless shelter as a cleaner and is extremely happy about her job there. Her previous employer let her go when she asked for a wage rise. At the hardware store, she was earning around 125 euros a month working 24 days. She grows vegetables in the backyard behind the house. Nevertheless, she can only make ends meet because she gets help from wortundtat, for example with clothing, food packages and firewood in winter.
How you can support our aid to children in the Republic of Moldova
At three daycare centres in the Republic of Moldova, wortundtat cares for around 120 children. Many of them have life stories like those of Tanya, Shusha, Oliver and Valeria. We need
around 15 euros a week
to take care of a child at the day care centre.
This sum enables us to cover operating, staff and administrative expenses, as well as the cost for food, clothing or teaching and play materials for a child.
Read why and where we help in the field of social welfare

Help us with your donation – A healthy lunch for children
At wortundtat partners, diaconal offers are linked with the opportunity to get to know the Christian faith.